Brake and Clutch Fluid DOT 4
High performance non-petroleum automotive brake fluid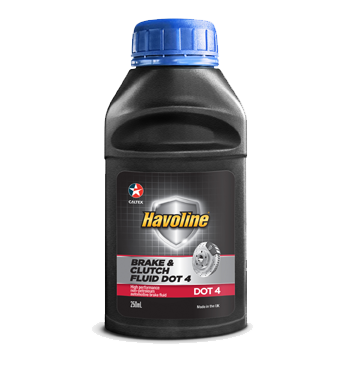 Brake and Clutch Fluid DOT 4 is a high performance non-petroleum automotive brake fluid, designed for use in conventional hydraulic brake and clutch systems operating in severe conditions, where DOT 4 fluids are recommended.
Brake and Clutch Fluid DOT 4 meets the recognised standards for clutch and brake fluids as demanded by leading motor vehicle manufacturers. Additionally, it complies with the US Federal Motor Vehicle Services Specification (FMVSS) No. 116 DOT 4, DOT 3, SAE J 1703 and ISO 4925 specifications. It also meets the requirements of the earlier specifications: SAE 70R 1 and 3, SAE J70 C, SAE J 1703 A to F and SAE J 1703 Jan 80, Nov 83 and Oct 85.
All hydraulically operated motor vehicle braking systems (drum and disc types) for which a DOT 4 or SAE J1704 fluid is specified
Make-up or service fill of braking systems requiring DOT 3 or SAE J1703 fluids
Vehicles with anti-lock (ABS) braking systems
Hydraulic clutch systems requiring conventional fluids
Passenger cars, commercial road transport, off-highway vehicles, agricultural tractors and motorcycles

Brake and Clutch Fluid DOT 4 is compatible with other brands of DOT 4/DOT 3 brake fluid.
Brake and Clutch Fluid DOT 4 should not to be used in systems designed for mineral oil based fluids (LHM), for example certain Citroen models, or where Silicone DOT 5 fluids are recommended.

Excellent long-term braking performance through maintenance of a higher fluid boiling point with minimum high temperature vapour formation
Superior vapour-lock resistance compared with fluids meeting less stringent specifications
Suitable for a wide range of brake system applications
Advanced, buffered formulation protects cast iron and steel against acidic oxidation products by keeping pH in alkaline range
High performance inhibitors prevent corrosion in metals such as aluminium, brass, copper, zinc and tin
Seal swell control and lubricity characteristics minimize leakage through seal shrinkage and component wear
Thermal oxidation resistance prevents harmful deposit formation and maintains performance across fluid service life

| | | |
| --- | --- | --- |
| FMVSS | 116 DOT 3 | Meets requirements |
| FMVSS | 116 DOT 4 | Meets requirements |
| Ford | ESD-M6C57-A | Meets requirements |
| Ford | ESD-M6C9102-A | Meets requirements |
| Ford | ESD-M6C9103-A | Meets requirements |
| ISO | 4925 | Meets requirements |
| JIS | K2233 TYPE 3 | Meets requirements |
| JIS | K2233 TYPE 4 | Meets requirements |
| NATO | H-542 (OX-8) | Meets requirements |
| SAE | J1703 | Meets requirements |
| SAE | J1704 | Meets requirements |
Always confirm that the product selected is consistent with the original equipment manufacturer's recommendation for the equipment operating conditions and customer's maintenance practices